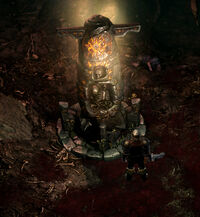 Shrines are a means of earning Devotion points. They can be found scattered throughout the world of Cairn, however following the Grim Dawn they have fallen to ruin or become corrupted by sinister forces and will require restoration or cleansing in order to earn Devotion points.
There are two types of Shrines:
Ruined Shrines will require various items to restore them
Desecrated Shrines will summon a wave of creatures for the player to dispatch in order to purge the Shrine of its corruption.
Restoring a shrine grants a single point of Devotion, with a maximum of 50 points in the base game and 55 with the Ashes of Malmouth expansion. There are total of 59 shrines (73 with expansion) across all three difficulties, 28 (33) in Normal, 17 (20) in Elite and 14 (20) in Ultimate.
Shrine Locations
Act 1 Shrines
Act 2 Shrines
Act 3 Shrines
Act 4 Shrines
Act 5 Shrines
Area
(In-game name)
Shrine Type
Offering/Challenge
Normal
Elite
Ultimate
1
Port Valbury
Desecrated
Kill a wave of Beasts
2
Gloomwald
Desecrated
Kill a wave of Beasts

X

3
Ancient Groves
Desecrated
Kill a wave of Ugdenbog Golems and Basilisks
4
Tomb of Ugdall (Ugdenbog)
Ruined
Ectoplasm
Chilled Steel
Vengeful Wraith
Polished Emerald
Vengeful Wraith
Radiant Gem
5

Malmouth Outskirts

Ruined
Aethersteel Bolts

X

Aethersteel Bolts
Soul Shard
6
Crown Hill
Desecrated
Kill a wave of Aetherials
7

Sanctum of the Chosen

Ruined

X

X

Skeleton Key
(Requires

Lokarr

quest)
Alphabetical
| No. | Shrine Name | Act | Normal | Elite | Ultimate |
| --- | --- | --- | --- | --- | --- |
| 1 | Arkovian Foothills | 2 | x | x | |
| 2 | Arkovian Undercity | 2 | x | x | x |
| 3 | Asterkarn Valley | 4 | x | | |
| 4 | Barren Highlands | 2 | x | x | |
| 5 | Bastion of Chaos | 4 | x | x | x |
| 6 | Blood Grove | 3 | x | | |
| 7 | Burial Hill | 1 | x | x | |
| 8 | Burrwitch Estates | 1 | x | x | |
| 9 | Burrwitch Outskirts | 1 | x | | |
| 10 | Cronley's Hideout | 2 | x | x | x |
| 11 | Crown Hill | 5 | x | x | x |
| 12 | Darkvale Village | 3 | x | x | x |
| 13 | Den of the Lost | 3 | x | x | x |
| 14 | Devil's Aquifer | 1 | x | x | |
| 15 | East Marsh | 1 | x | x | x |
| 16 | Flooded Passage | 1 | x | x | |
| 17 | Foggy Bank | 1 | x | x | x |
| 18 | Forgotten Depths | 3 | x | | |
| 19 | Gloomwald | 5 | x | | x |
| 20 | Infested Farms | 3 | x | | |
| 21 | Malmouth Outskirts | 5 | x | | x |
| 22 | Mogdrogen's Shrine | 4 | x | x | x |
| 23 | Mountain Deeps | 3 | x | | |
| 24 | Necropolis | 4 | x | | |
| 25 | Old Arkovia | 2 | x | x | |
| 26 | Port Valbury | 5 | x | | |
| 27 | Rocky Coast | 2 | x | x | |
| 28 | Sanctum of the Immortal | 4 | | | x |
| 29 | Sanctum of the Chosen | 5 | | | x |
| 30 | Steps of Torment | 2 | x | x | x |
| 31 | The Black Sepulcher | 4 | x | x | x |
| 32 | The Undergrowth | 5 | x | x | x |
| 33 | Tomb of the Damned | 4 | x | x | x |
| 34 | Tyrant's Hold | 3 | x | x | x |
| 35 | Ugdenbog | 5 | x | x | x |
| 36 | Warden's Lab | 1 | x | x | x |
| - | TOTAL | - |     34 |   24 |      20 |