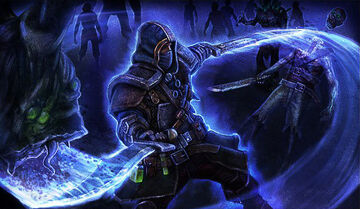 Nightblades are deadly melee fighters and assassins. Unlike the Soldier, a Nightblade approaches combat with the intent of ending it quickly and decisively. Prolonged encounters can be dangerous, but the Nightblade is not without his illusions and tricks. Using conjured illusions that seem so real that they can inflict actual physical harm, these highly skilled combatants can fight their way out of nearly any situation. While Nightblades are not restricted to any particular weapon type, they excel when dual wielding swords and fading in and out of melee combat with their adversaries.
Lore
Nightblades were clandestine warriors that sold their services to the great houses of the empire. Nightblades excel with all manner of martial weapons, but are even more feared for the deadly blade magic that is the secret of their trade. Nightblades are not suited to go toe to toe with tougher enemies and rely on illusion to close for quick, devastating attacks or fight from a distance with phantasmal blades.
Skill Tree
Nightblade All Active Skills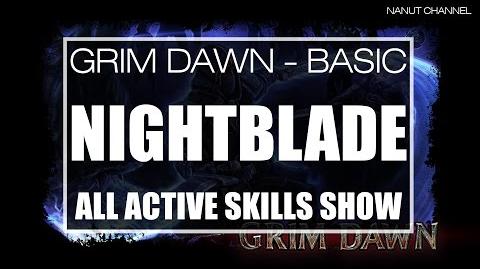 Mastery Progression
| | |
| --- | --- |
| | Practice in the art of illusion and whirling blades. |
Each point invested in the Nightblade skill mastery gives the following stat bonuses:
+3.5 Physique
+2.5 Spirit
+4 Cunning
+26 Health
+12 Energy
Class Combinations
Combining the Nightblade with another Mastery forms the following hybrid classes:
Demolitionist Skills
Active Skills
Fire Strike (Explosive Strike, Searing Might, Searing Strike, Static Strike, Brimstone) • Flashbang (Searing Light) • Stun Jacks (Quick Jacks, Full Spread) • Blackwater Cocktail (High Potency, Demon Fire, Agonizing Flames) • Grenado (Skyfire Grenado, High Impact, Shattering Blast) • Canister Bomb (Concussive Bomb, Improved Casing) • Mortar Trap (Heavy Ordinance, "The Big One") • Thermite Mine (Hellfire Mine)
Passive Skills
Blast Shield • Ulzuin's Chosen
Toggled Skills
Flame Touched (Temper) • Vindictive Flame (Ulzuin's Wrath)
Occultist Skills
Active Skills
Dreeg's Evil Eye (Blood Burst, Focused Gaze, Terrifying Gaze, Vile Eruption) • Curse of Frailty (Vulnerability) • Bloody Pox (Fevered Rage, Wasting, Black Death) • Sigil of Consumption (Destruction) • Blood of Dreeg (Aspect of the Guardian) • Doom Bolt
Toggled Skills
Solael's Witchfire (Consecrated Blade, Second Rite) • Bonds of Bysmiel (Manipulation) • Possession
Summoning Skills
Summon Familiar (Mend Flesh, Storm Spirit, Lightning Strike) • Summon Hellhound (Ember Claw, Hellfire, Infernal Breath)
Nightblade Skills
Active Skills
Phantasmal Blades (Frenetic Throw, Heart Seeker, Nether Edge) • Pneumatic Burst (Breath of Belgothian, Shadow Dance, Elemental Awakening) • Amarasta's Blade Burst (Lethal Assault) • Shadow Strike (Nidalla's Justifiable Ends (Skill), Nightfall) • Ring of Steel (Ring of Frost, Circle of Slaughter) • Blade Barrier • Blade Trap (Devouring Blades) • Blade Spirit
Passive Skills
Dual Blades (Belgothian's Shears, Nidalla's Hidden Hand, Amarasta's Quick Cut, Whirling Death, Execution) • Phantasmal Armor • Anatomy of Murder • Merciless Repertoire
Toggled Skills
Veil of Shadow (Night's Chill)
Community content is available under
CC-BY-SA
unless otherwise noted.