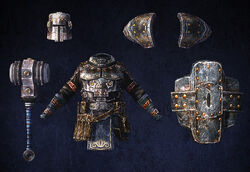 Item sets are a group of Unique Items that are linked thematically, in name, appearance and purpose.
Sets can consist of two or more items, and can include any type of armor, weapon or accessory.
Sets also feature incremental bonuses, with more bonuses being granted as more pieces of the set are equipped.
List of Sets
Epic
Empowered Epic
Legendary
Community content is available under
CC-BY-SA
unless otherwise noted.