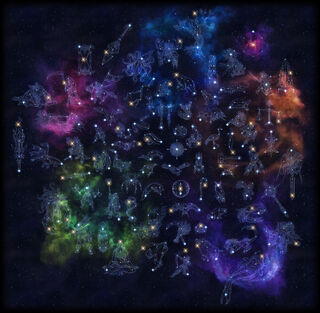 Devotion is a passive skill system intended to provide players with an extra level of character development. It gives access to an array of constellations that in turn grant the player new attributes and abilities.
Earning Devotion
Devotions are unlocked by finding and restoring various Shrines scattered throughout the game world.
Ruined Shrines must be repaired using rare materials.
Corrupted Shrines can be purified by defeating the corrupting power hidden within the Shrine.
Restoring a shrine grants a single point of Devotion. A total of 55 Devotion points can be obtained across three difficulty levels. Devotion Points are spent within the Devotion Window, which is accessed through the Skill Window.
See also: Shrine Locations
Tributes earned in Crucible can be exchanged for Devotion points. The exchange rate is as follows to gain another Devotion point:
| Devotion Points unlocked | Tributes required to unlock another Devotion Point |
| --- | --- |
| 00 - 04 | 03 |
| 05 - 09 | 05 |
| 10 - 13 | 10 |
Spending Devotion Points
Devotion points can be spent to unlock stars in a Constellation. Each star provides a passive bonus, which can include attributes, damage, resistances, and so on. Completing a Constellation grants an Affinity Bonus, which is then used to unlock higher Constellations.
Affinity
Each Constellation is aligned with a combination of Affinities:
| | |
| --- | --- |
| | Ascendant |
| | Chaos |
| | Eldritch |
| | Order |
| | Primordial |
Celestial Powers
Some Constellations provide special bonuses known as Celestial Powers. Celestial Powers (50 in total) are unique skills which can be linked to normal Mastery skills, and have a chance to trigger off them as a secondary effect. Celestial Powers also earn experience, increasing the skill level as they are used. They can also be changed at any time within the Devotion Window, and any experience earned is saved, although it will not earn experience while it is not assigned to a skill.
Assigning Celestial Powers
A skill can only have one Celestial power assigned to it at a time, but there is no hard limit on how many different skills have secondary effects. They can also be linked to granted skills from equipment and Components; should a piece of equipment be switched out, the skill assignment will remain, but the celestial power will no longer be active or gain experience.
Refunding Devotion Points
Devotion points can be refunded using the Spirit Guide, however a Constellation cannot be undone if it grants an Affinity to another Constellation that has points invested. Constellations can support themselves if they grant Affinity they require, allowing you to refund Devotion points from Constellations used to reach them. Devotion points can also be completely reset by using a Tonic of Clarity, which can drop only from Nemesis bosses.