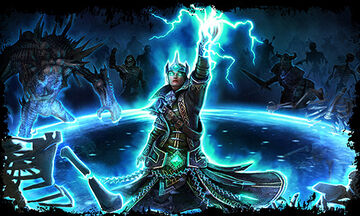 Arcanists are masters of the elements as well as the raw force of magic that forms the mysterious Aether. They manifest this power through anything ranging from trivial weapon enchantments to rays of pure destructive energy. Though Arcanists may have a few tricks up their sleeves to ensure their survival, the primary focus of their spell-work is in obliterating their enemies before they even need to resort to such tactics.
Lore
To Arcanists, the manifestation of magic is not some unexplainable mystery or the will of the gods, but a science meant to be unraveled. This pursuit of knowledge drives all Arcanists, always eager to discover a new technique to make their namesake. Arcanists warp the mysterious aether and elements to their will, creating devastating demonstrations of power that rival small armies. However, such raw force leaves little in terms of defense.
Skill Tree
Mastery Progression
| | |
| --- | --- |
| | Conditioning of the body and mind to withstand the corrupting power of raw magic. |
Each point invested in the Arcanist skill mastery gives the following stat bonuses:
+2 Physique
+5 Spirit
+3 Cunning
+18 Health
+20 Energy
Class Combinations
Combining the Arcanist with another Mastery forms the following hybrid classes:
Battlemage (+ Soldier)
Druid (+ Shaman)
Sorcerer (+ Demolitionist)
Spellbreaker (+ Nightblade)
Warlock (+ Occultist)
Spellbinder (+ Necromancer)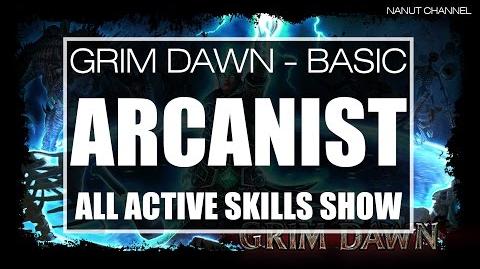 Demolitionist Skills
Active Skills
Fire Strike (Explosive Strike, Searing Might, Searing Strike, Static Strike, Brimstone) • Flashbang (Searing Light) • Stun Jacks (Quick Jacks, Full Spread) • Blackwater Cocktail (High Potency, Demon Fire, Agonizing Flames) • Grenado (Skyfire Grenado, High Impact, Shattering Blast) • Canister Bomb (Concussive Bomb, Improved Casing) • Mortar Trap (Heavy Ordinance, "The Big One") • Thermite Mine (Hellfire Mine)
Passive Skills
Blast Shield • Ulzuin's Chosen
Toggled Skills
Flame Touched (Temper) • Vindictive Flame (Ulzuin's Wrath)
Occultist Skills
Active Skills
Dreeg's Evil Eye (Blood Burst, Focused Gaze, Terrifying Gaze, Vile Eruption) • Curse of Frailty (Vulnerability) • Bloody Pox (Fevered Rage, Wasting, Black Death) • Sigil of Consumption (Destruction) • Blood of Dreeg (Aspect of the Guardian) • Doom Bolt
Toggled Skills
Solael's Witchfire (Consecrated Blade, Second Rite) • Bonds of Bysmiel (Manipulation) • Possession
Summoning Skills
Summon Familiar (Mend Flesh, Storm Spirit, Lightning Strike) • Summon Hellhound (Ember Claw, Hellfire, Infernal Breath)
Nightblade Skills
Active Skills
Phantasmal Blades (Frenetic Throw, Heart Seeker, Nether Edge) • Pneumatic Burst (Breath of Belgothian, Shadow Dance, Elemental Awakening) • Amarasta's Blade Burst (Lethal Assault) • Shadow Strike (Nidalla's Justifiable Ends (Skill), Nightfall) • Ring of Steel (Ring of Frost, Circle of Slaughter) • Blade Barrier • Blade Trap (Devouring Blades) • Blade Spirit
Passive Skills
Dual Blades (Belgothian's Shears, Nidalla's Hidden Hand, Amarasta's Quick Cut, Whirling Death, Execution) • Phantasmal Armor • Anatomy of Murder • Merciless Repertoire
Toggled Skills
Veil of Shadow (Night's Chill)
Community content is available under
CC-BY-SA
unless otherwise noted.